Running a busy business, it's hard to find the time to stay on top of your bookkeeping. That's why our services have been designed to help make bookkeeping a more straight forward and faster process for your business's.
With our easy-to-use Sage cloud software there's no need to worry – day-to-day bookkeeping is quick and effortless. Whether your sat at your desk, on your tablet at home or using your mobile while out and about - our software is accessible anytime, anywhere at the click of a button.
We have a mobile app powered by Xpenditure that means you can take a snap of your invoices and receipts with your phone and this is then immediately uploaded to your account - saving time, money and lost paperwork!
Having all your accounting services in one place - accountancy, bookkeeping and payroll - saves time and money.
Data entry of accounts payable and receivable invoices
We collect your creditor and debtor invoices and code and enter them.
Enter individual detail of manually paid invoices.
Client invoice generation
If you do not have a system to generate invoices we can do this for you. This can be done via completed work orders.
Accounts payable reconciliations
We can reconcile all creditor invoices back to creditor statements to ensure all costs are included.
Bank reconciliations
We will reconcile all payments and receipts back to bank statements and ensure that the company bank details balance back to the statement.
Maintain inventory records and reporting
We can setup your inventory within your company details and keep track of this through your sales and purchase records. This will enable inventory reports to be generated.
Database Management
Customer and supplier database records can be set up and maintained.
Financial Statements
Balance Sheets
Income Statements
Accountancy Liaison
Send your financial statements to tax preparer
Preparation of balance sheet and profit and loss statements
Once information has been entered for a specific period we can generate base balance sheets and profit and loss statements. It is important to remember that these will be prior to tax adjustments that may be made by your accountant at the end of each year.
VAT returns and VAT Registration
We can register companies for VAT and compile and file all necessary paperwork for quarterly VAT returns to HMRC
CIS returns
We can set you up as a contractor and/or subcontractor and compile and file all necessary paperwork for monthly CIS returns to HMRC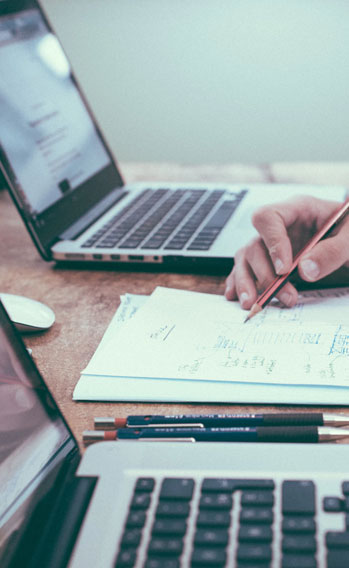 We offer a FREE initial consultation and are more than happy to answer any questions that you may have.